March 24, 2022
Different definitions of homelessness
In our region, homelessness is not just limited to those sleeping rough on the street.
What TFSS staff see
Each situation is unique. Our staff support individuals and families who are:
Sleeping rough or in improvised dwellings that fall below minimum community standards. Example: Sleeping in your car or by the river.
Frequently moving from one accommodation to another without a permanent address. Example: Couch surfing or those staying at emergency accommodation.
In living situations that do not allow them to have control of, and/or access to living space relations. Example: Motel, Pub room, boarding house and/or caravan parks.
Another situation our staff see is children staying at a friend's house because it is not safe to go home. This is a type of homeless.
What makes a home?
These elements that make a home include (but are not limited to):
Security
Stability
Privacy
Safety
The ability to control living space
How does TFSS help?
Tamworth Family Support Service (TFSS) support men, women, families, and young people who may be at risk of or are experiencing homelessness. TFSS also provides early intervention support and a youth refuge for young people who need emergency accommodation.
Our staff work with individuals and families to identify and address barriers to safe, long-term accommodation. Some of these barriers can include employment, education, health care, and behavioral issues.
On average, TFSS has a waitlist of between 75 and 100 people in the Tamworth region looking for safe, long-term accommodation.
Do you need support with your housing needs? Call 1800 073 388.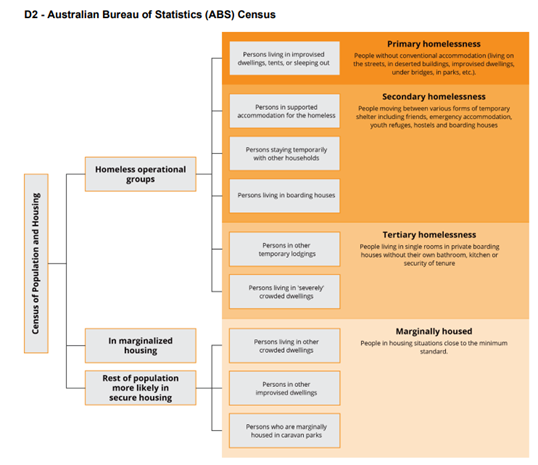 Photo: Diagram explaining the differnet definitions of homelessness.
Further information
Earlier this month, the Australian Institute of Health and Welfare (AIHW) published a paper comparing the different definitions of homelessness. Click here to find out more.
Reference list
Australian Institute of Health and Welfare. (2022). Technical Paper: Alignment of the Specialist Homelessness Services Collection (SHSC) and the ABS Census definitions of homelessness. Canberra.
---